Alcohol prevention affords
http://www.samhsa.gov/underage-drinking
ACEs Resiliency
Adverse childhood experiences (ACEs) are stressful or traumatic events, including abuse and neglect. They may also include household dysfunction such as witnessing domestic violence or growing up with family members who have substance use disorders. ACEs are strongly related to the development and prevalence of a wide range of health problems throughout a person's lifespan, including those associated with substance misuse.
https://www.samhsa.gov/capt/practicing-effective-prevention/prevention-behavioral-health/adverse-childhood-experiences
Youth Marijuana Prevention
Education classes for middle and high schools "marijuana the brain"
http://www.talkaboutittodayme.org/
Above the Influence
Above The Influence was created for the National Youth Anti-Drug Media Campaign, a program of the Office of National Drug Control Policy (ONDCP). This campaign is inspired by what teens have told us about their lives, and how they deal with the influences that shape their decisions.
National Drug Take Back Day
The National Drug Take-Back Day aims to provide a safe, convenient, and responsible means of disposing of prescription drugs, while also educating the general public about the potential for abuse of medications.
Parents Who Host Lose The Most
Don't be a party to underage drinking is a public awareness campaign educating communities and parents about the health and safety risks of serving alcohol at teen parties. This campaign encourages parents and the ENTIRE community to send a unified message that teen alcohol consumption is unhealthy, unsafe, and unacceptable and parents play a major role in their child's decision to make healthy choices.
Project Sticker Shock
From the office of Substance Abuse and Mental Health Services focuses on the prevention of youth access and use of alcohol. Throughout the state youth go to local stores where alcohol is sold and put bright orange stickers onto various cases of multi-packs of beer, alco-pops, and other alcohol products that appeal to underage drinkers. The stickers are there to remind the buyer that furnishing alcohol to minors comes with some hefty consequences.
Tips Training
TIPS® (Training for Intervention ProcedureS) is the global leader in education and training for the responsible service, sale, and consumption of alcohol. Proven effective by third-party studies, TIPS is a skills-based training program that is designed to prevent intoxication, underage drinking, and drunk driving.
The Maine Tobacco HelpLine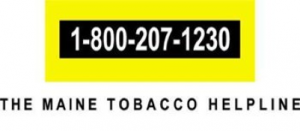 Answers your questions and offers friendly support to those who are thinking about quitting or who are ready to quit smoking, or those who want to help a friend or family member quit.
Breathe Easy Coalition
The Breathe Easy Coalition of Maine is an organization that works to reduce peoples' exposure to second hand smoke in various ways. The Coalition has worked in partnership with the community to help create tobacco free hospitals, college campuses, and housing all around Maine.